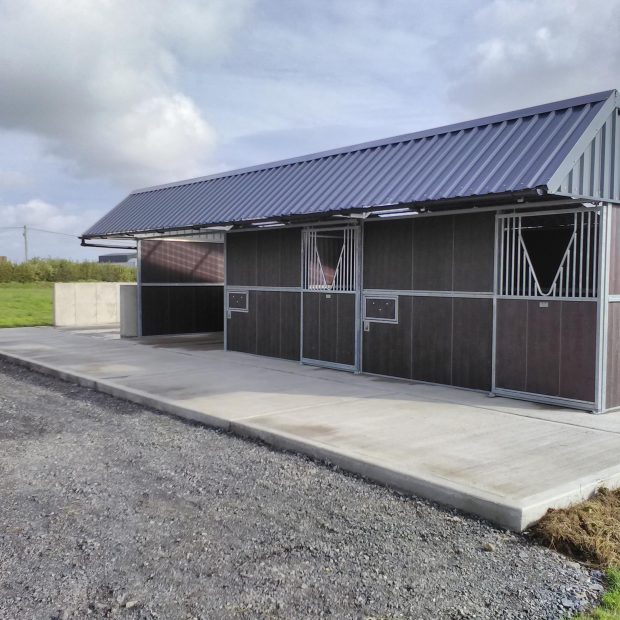 External Stables
Our outdoor stables provide a unique solution for horse stabling. All materials have been carefully selected to provide long-life and durability. Safety being the key element; the materials used also provide a product which is robust and give our stables their unique appearance.
Each stable measures 3660mm x 3660mm (12' x 12') with a height of 2440mm (8'). All that is required of the customer is to provide a concrete base, with the rest completed by Allenweld.
The steel framing is manufactured to the highest quality standards and galvanised to I.S. EN ISO 1461 to produce a strong, durable and safe stable for your horses whilst giving optimum value for money.
We offer a solid recycled plastic tongue and groove boarding which has the following benefits:
It cannot be chewed by the horses
It is waterproof, it can be hosed down
It will not splinter or break easily. It will absorb the shock of being kicked by an animal
It is weatherproof (frost, rain, hail, snow and sunlight do not effect it)
It does not hold bacteria
Maintenance Free!
The roof cladding provided to the stables has a non-drip coating provided to the underside to prevent condensation from occurring in the stables.
Other options:
Grill Frame Partition
Swivel Feed Bowl
Water Bowl
Hay-Rack
Stable matting
Top-Door (compatible with hinge doors only)